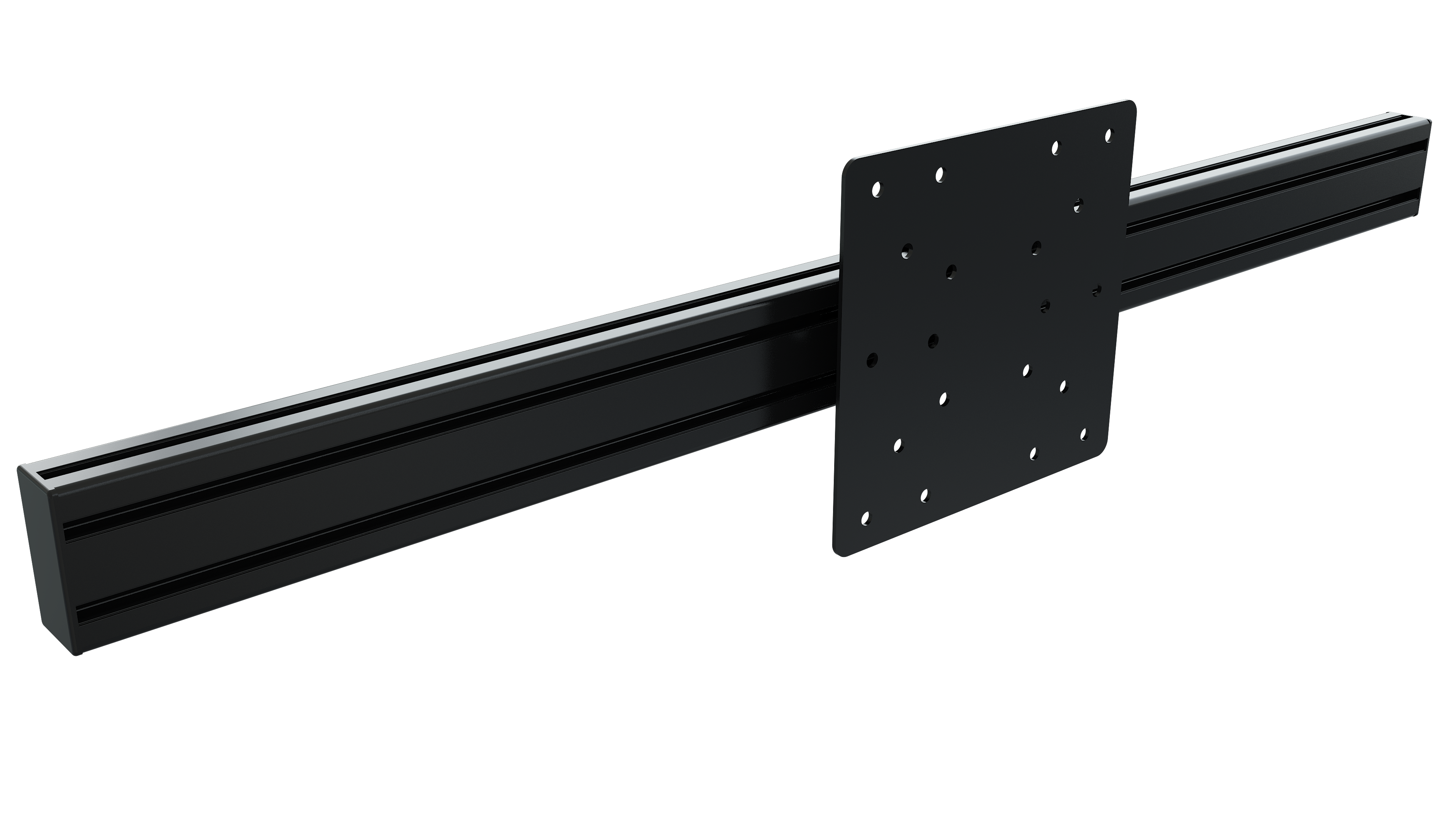 Monitor Stand Center Piece with Vesa Mount - Up to 80" Center Profile 1200mm Long
SKU: TR80-TMSIN-BLK
---
1200mm Long Anodized Black 80mm x 40mm Extruded Aluminium with VESA Mount. Floor and Integrated Mounts Not Included
Trak Racer is the Official Simulator Supplier of ALPINE F1 team and Airbus Aircraft.
VESA MOUNTING POINTS
75mm x 75mm
100mm x 100mm
150mm x 150mm (via included extension bracket)
200mm x 200mm (via included extension bracket)
300mm x 300mm (via included extension bracket)
400mm x 400mm (via included extension bracket)
Note
. Larger sizes available with additional mount
Warranty: 5 Years
WHAT'S INCLUDED
Trak Racer 80mm x 40mm Aluminium Frame and fixing screws/nuts
VESA Mounting Plate and fixing screws/nuts and VESA Extension Brackets
TOP-QUALITY BUILD WITH FULL ADJUSTMENT
The upgraded Aluminium Trak Racer monitor stands are not just better looking than their competition but they are also more adjustable. The stands feature multi-adjustment of the vertical angle of the monitors and full adjustment slide on the horizontal.
Our stands are inspired by our cockpits and designed for maximum stability and strength. Each stand comes from quality core materials, unparalleled craftsmanship, and state of the art manufacturing processes.

Official Racing Simulator of Alpine F1 Team and Official Flight Simulator of Airbus Aircraft
Since 2008, Trak Racer has been favored by professional drivers/pilots, game centers, massive gaming events, and event hire companies. By offering the highest quality gear in the industry, Trak Racer has collaborated with big-name brands such as, but not limited to, Alpine F1, Airbus, Xbox, Ubisoft, Sony, Castrol, Accord Hotels, and more.
Disclaimer. Trak Racer takes no responsibility for damage caused to personal effects while using this product.
Disclaimer. No Electronics (eg Monitors or gaming cockpit) are included with this listing.
If you're looking to partner with Trak Racer please get in touch.