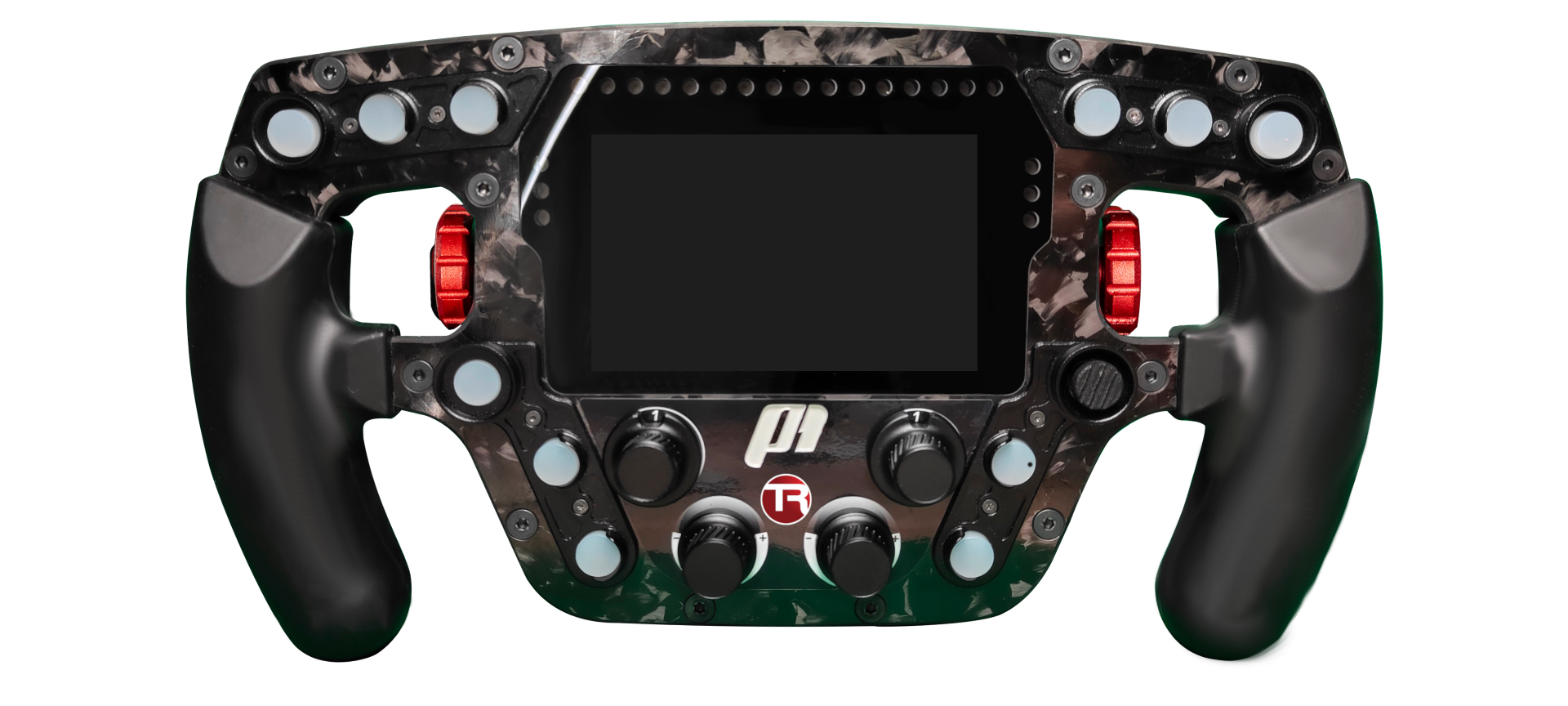 P1-Eau Rouge PLUS - Trak Racer Edition
SKU: ERPF
---
P1SIM x Trak Racer Carbon Fiber Steering Wheel: The Racer's Edge
Experience a seamless fusion of impeccable design, cutting-edge technology, and race-proven performance with the P1SIM and Trak Racer Carbon Fiber Steering Wheel. Crafted by racers for racers, this unique collaboration between the giants of simulation racing guarantees an unparalleled racing experience.
Key Features:
Precision Display: A 4.3" LCD Vocore Touchscreen powered by Simhub ensures you remain in control and informed at every bend of the track.
Control at Your Fingertips: With 11 backlit push buttons, 2 rotary/push encoders, 2 twelve-position rotaries, 2 thumb rotaries, and an analog joystick, customize and execute commands with ease and precision.
Ergonomic Design: Grip the 33mm handmade rubber grips, meticulously crafted to provide maximum comfort for those adrenaline-pumping races.
Dynamic Light Show: 22 RGB LEDs not only offer a visually stunning display but also provide real-time feedback during your races.
Swift Gear Changes: Dual magnetic switchless shifter paddles ensure instant and efficient gear transitions, giving you that split-second advantage.
Clutch Control: Take total control of your start with 2 switchless clutch paddles, guaranteeing a perfect launch every time.
Premium Build: Constructed with a 5mm forged carbon plate and CNC machined aluminium body, this wheel promises both durability and lightweight performance.
Stay Connected: A high-quality 2m long spiral cable ensures consistent and uninterrupted connectivity.
VR-Ready: Elevate your racing experience with VR compatibility.
Universal Compatibility: The hub is versatile and compatible with any bases on the market, ensuring a perfect fit for every racer's setup.
Wheel Specifications: With a wheel diameter of 295 mm, this steering wheel strikes the perfect balance between control and immersion.
Race like a champion. Whether it's the pulsating straight or the challenging chicanes, the P1SIM x Trak Racer Carbon Fiber Steering Wheel is your ultimate companion to victory lane. Embrace the future of racing.