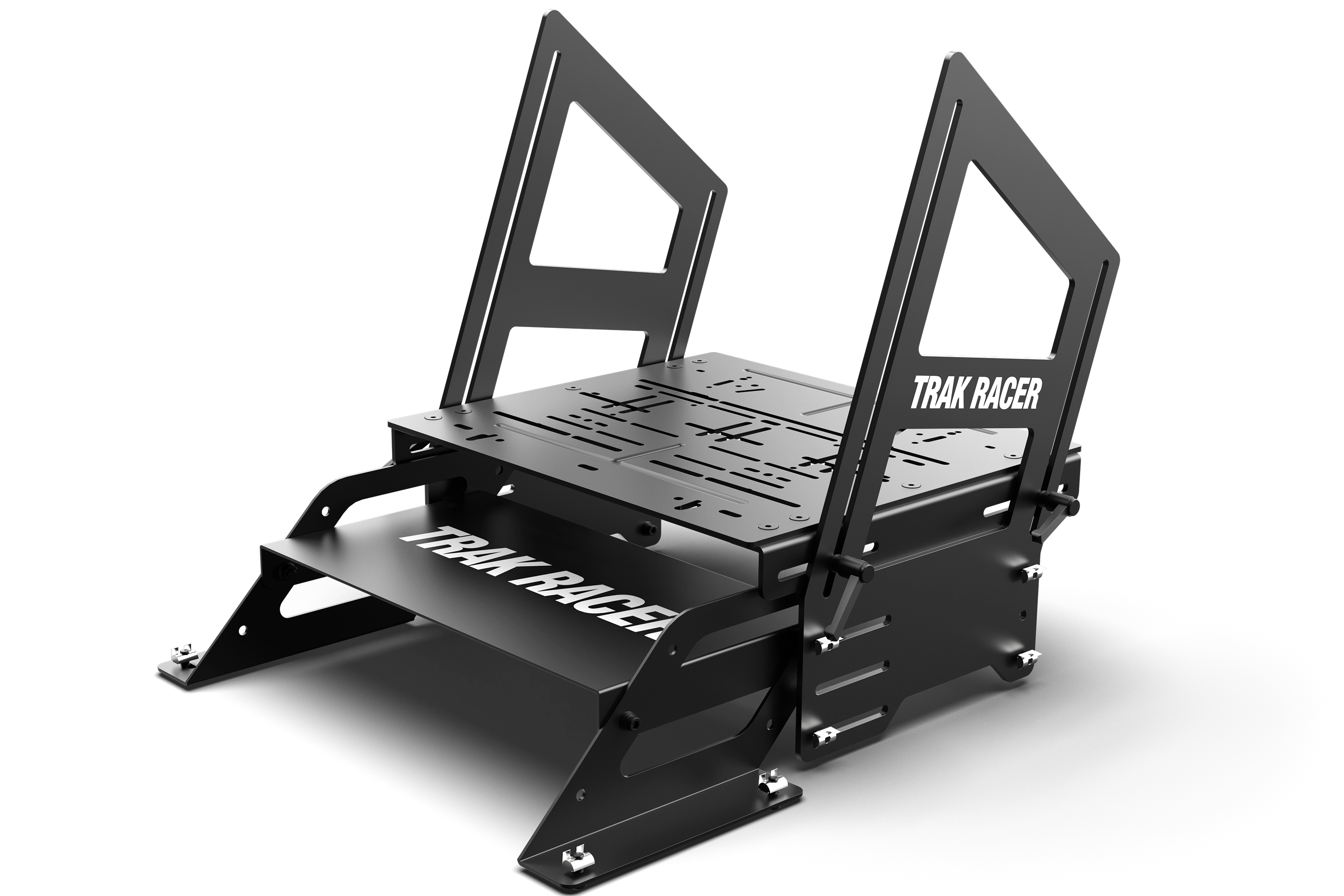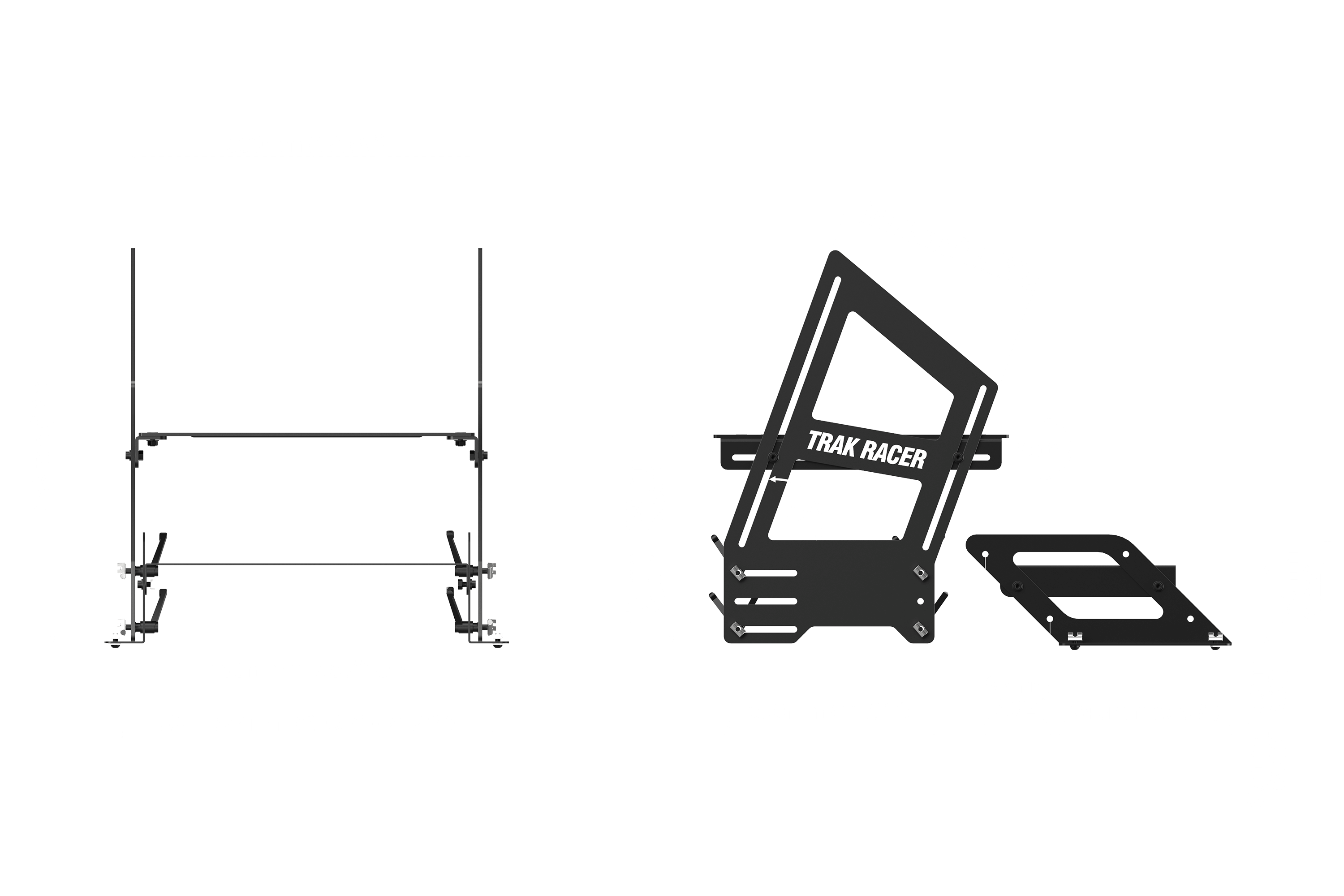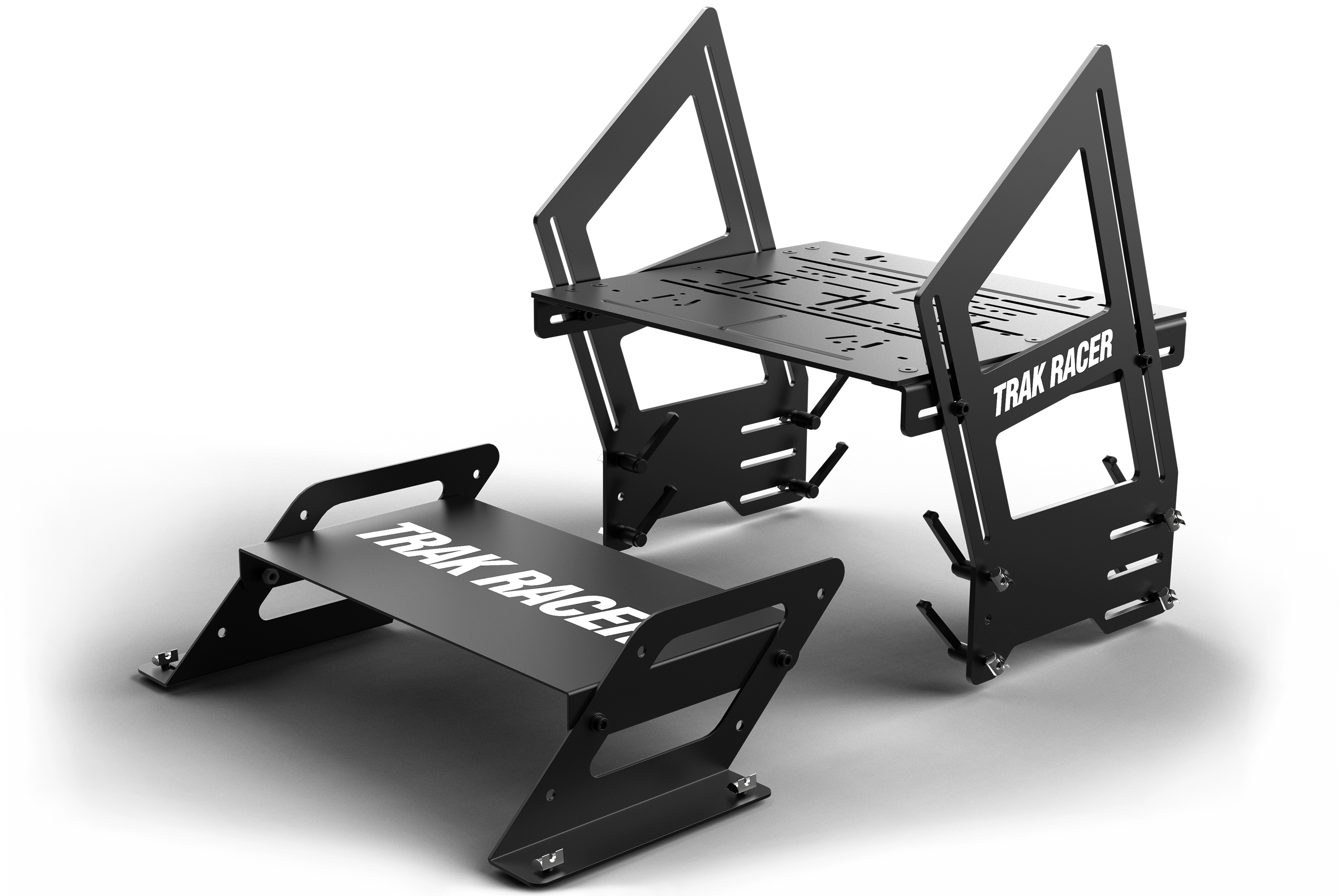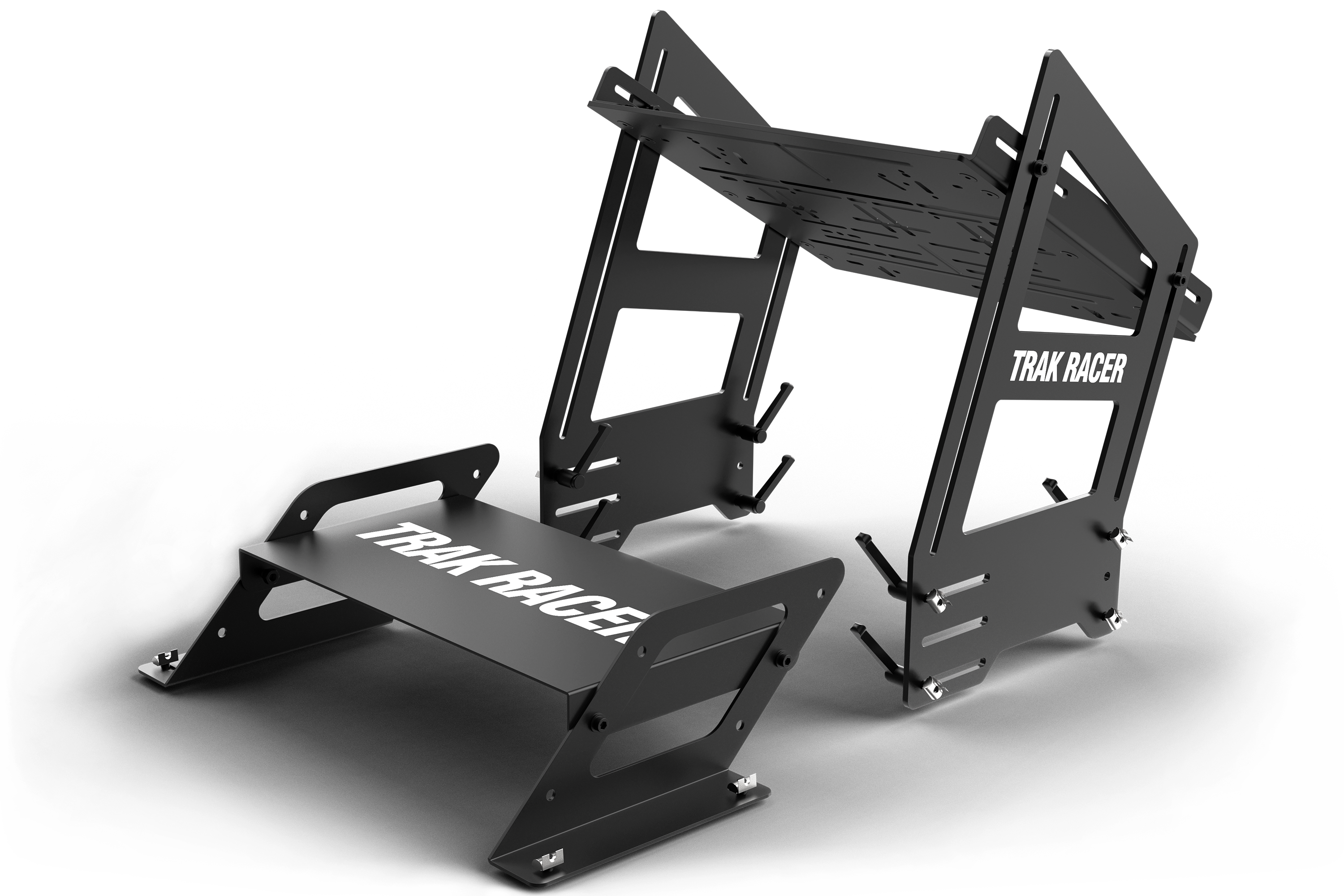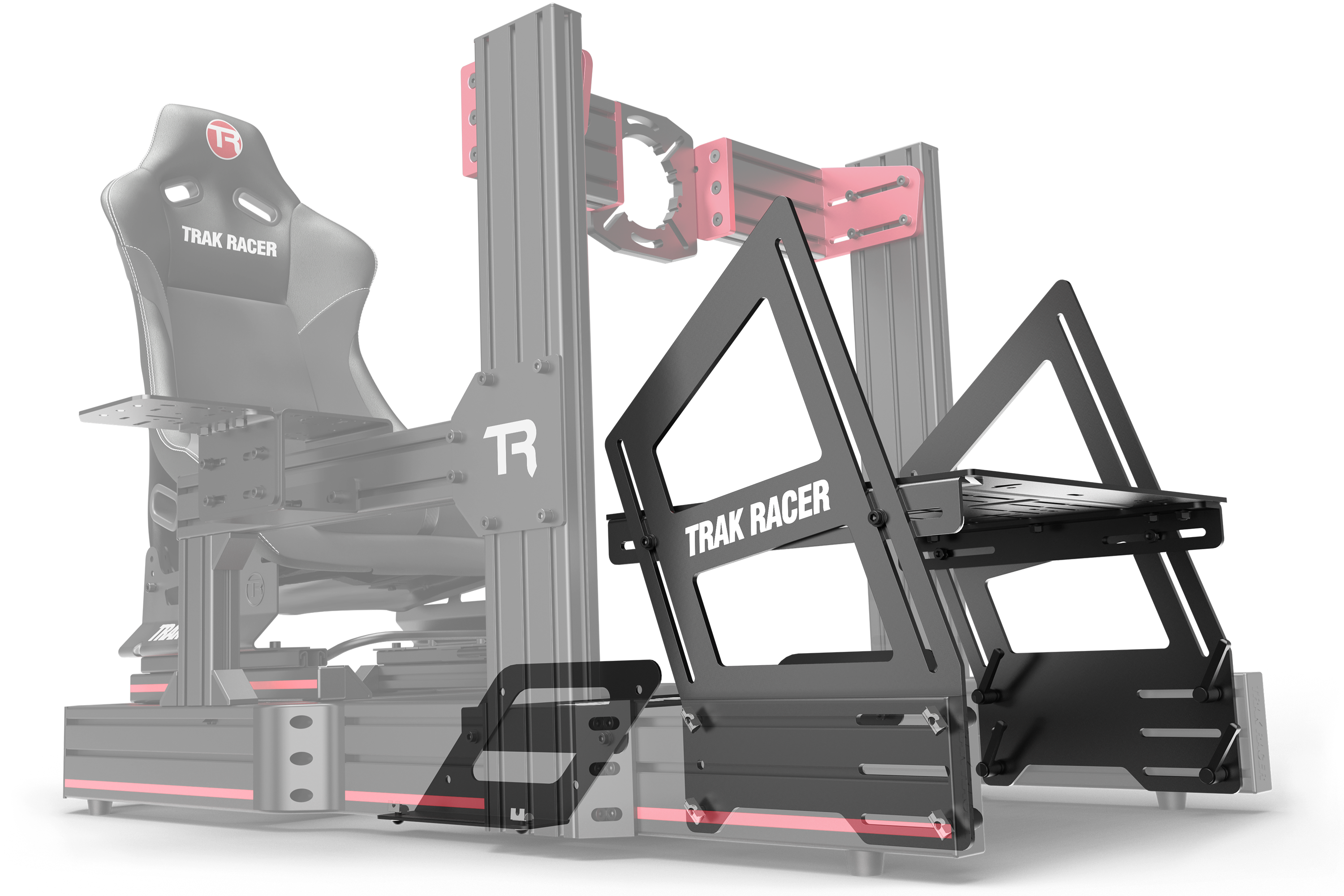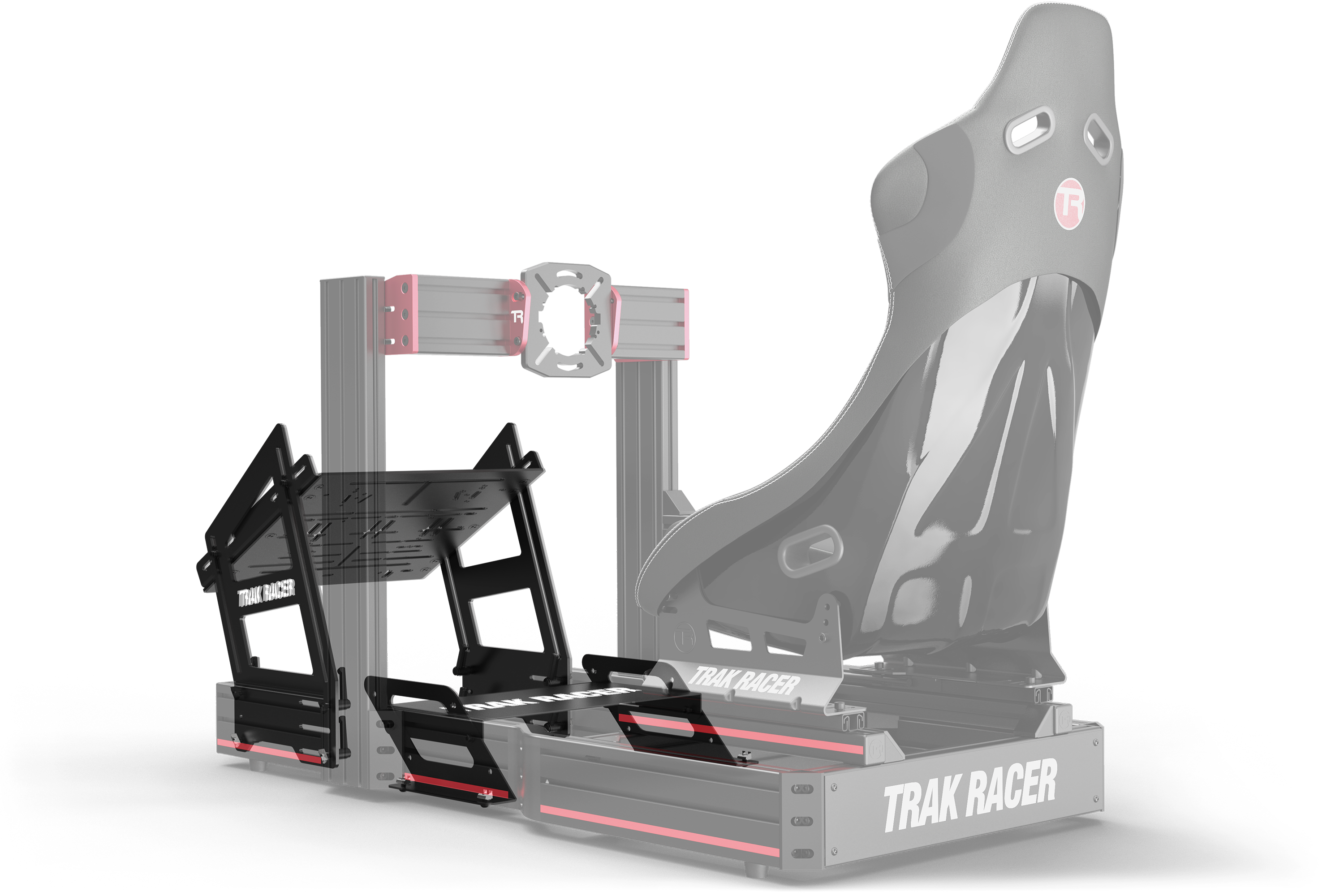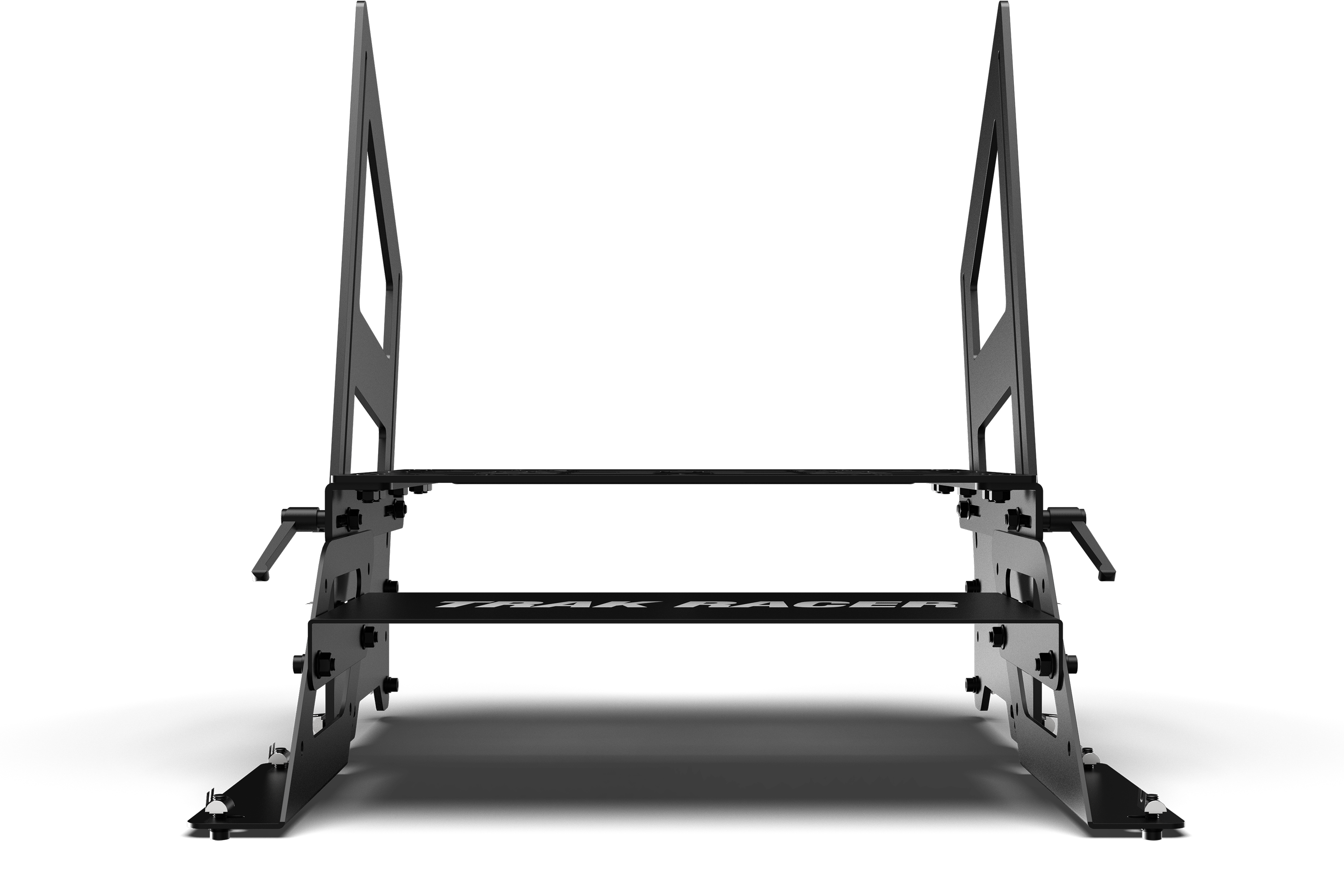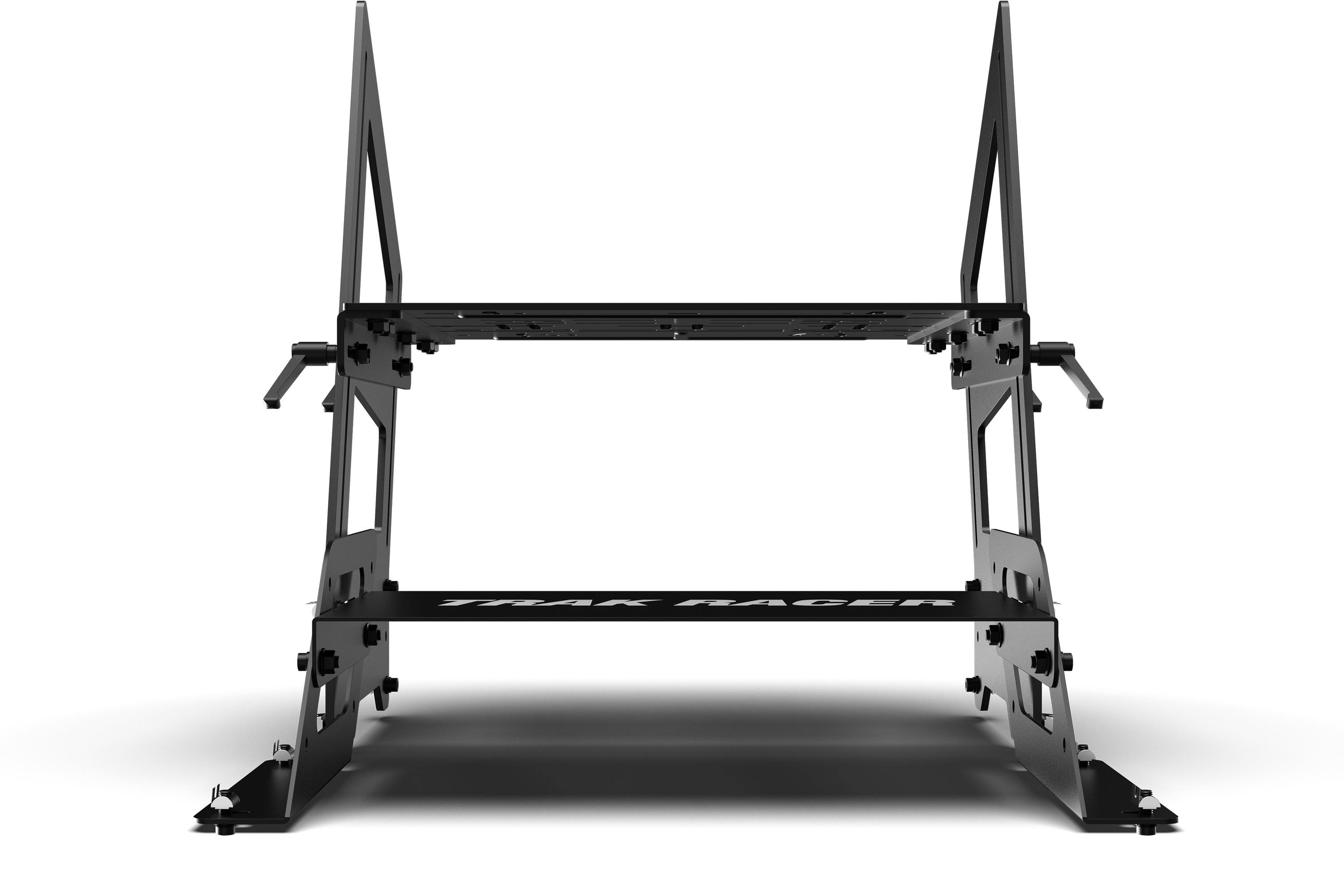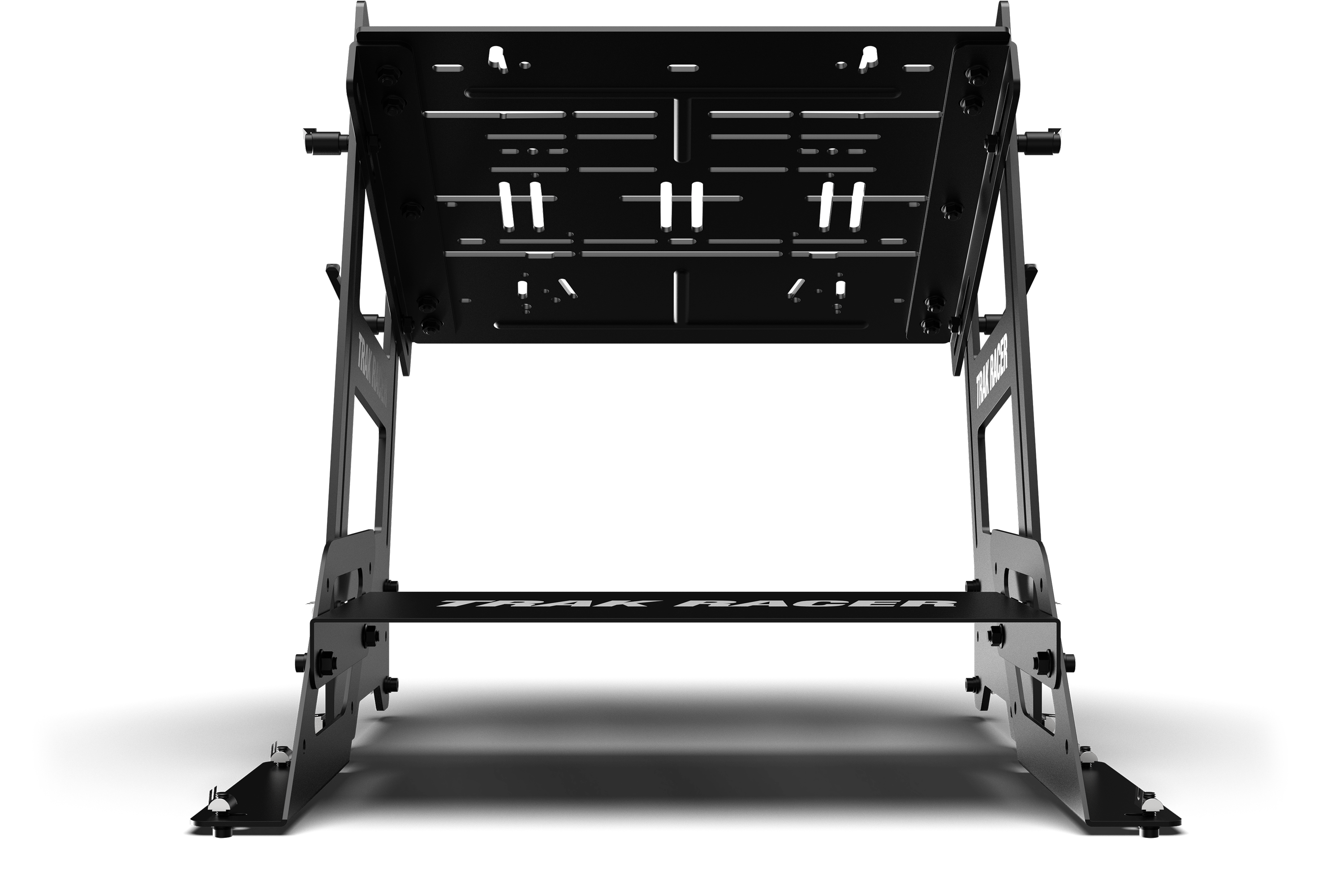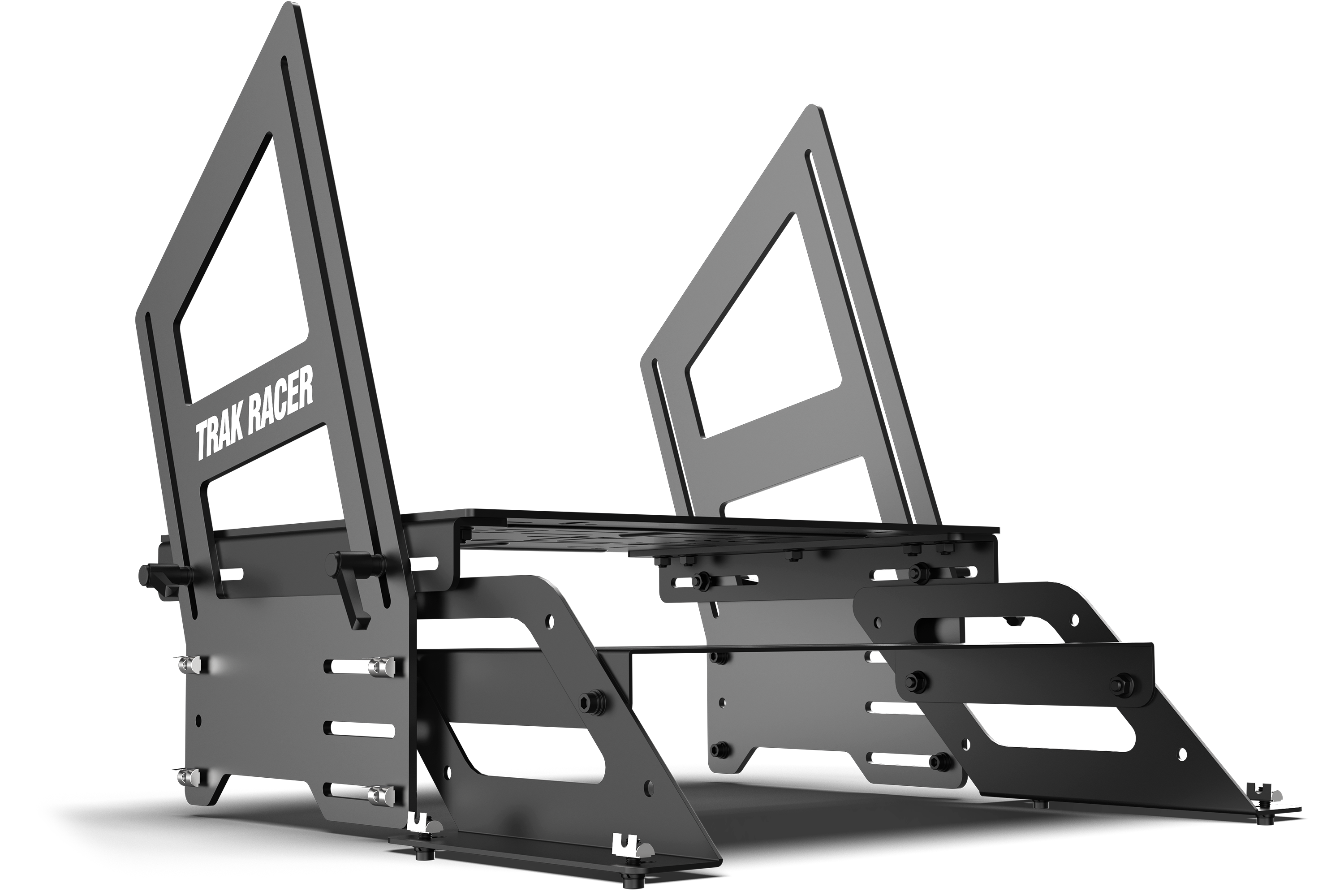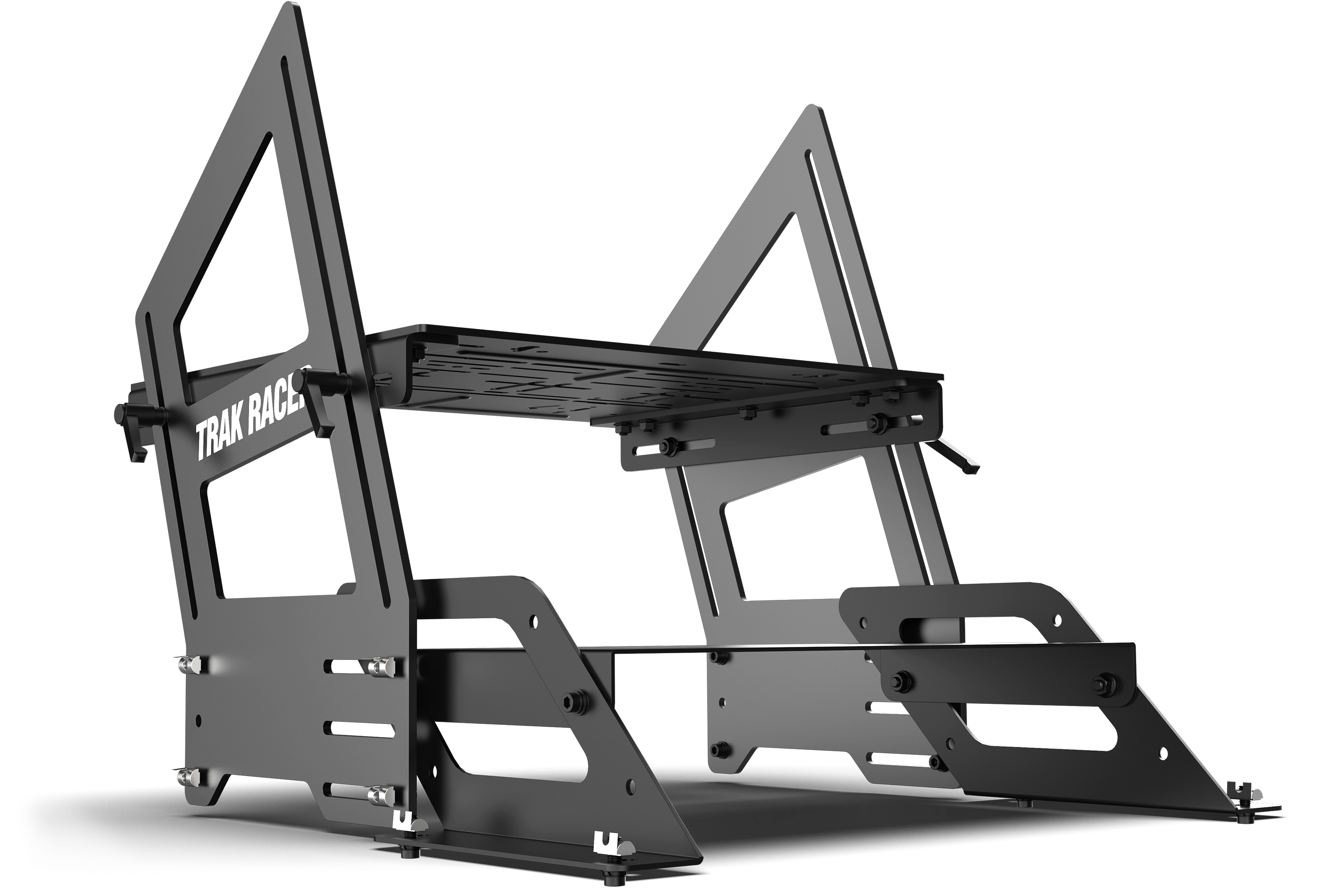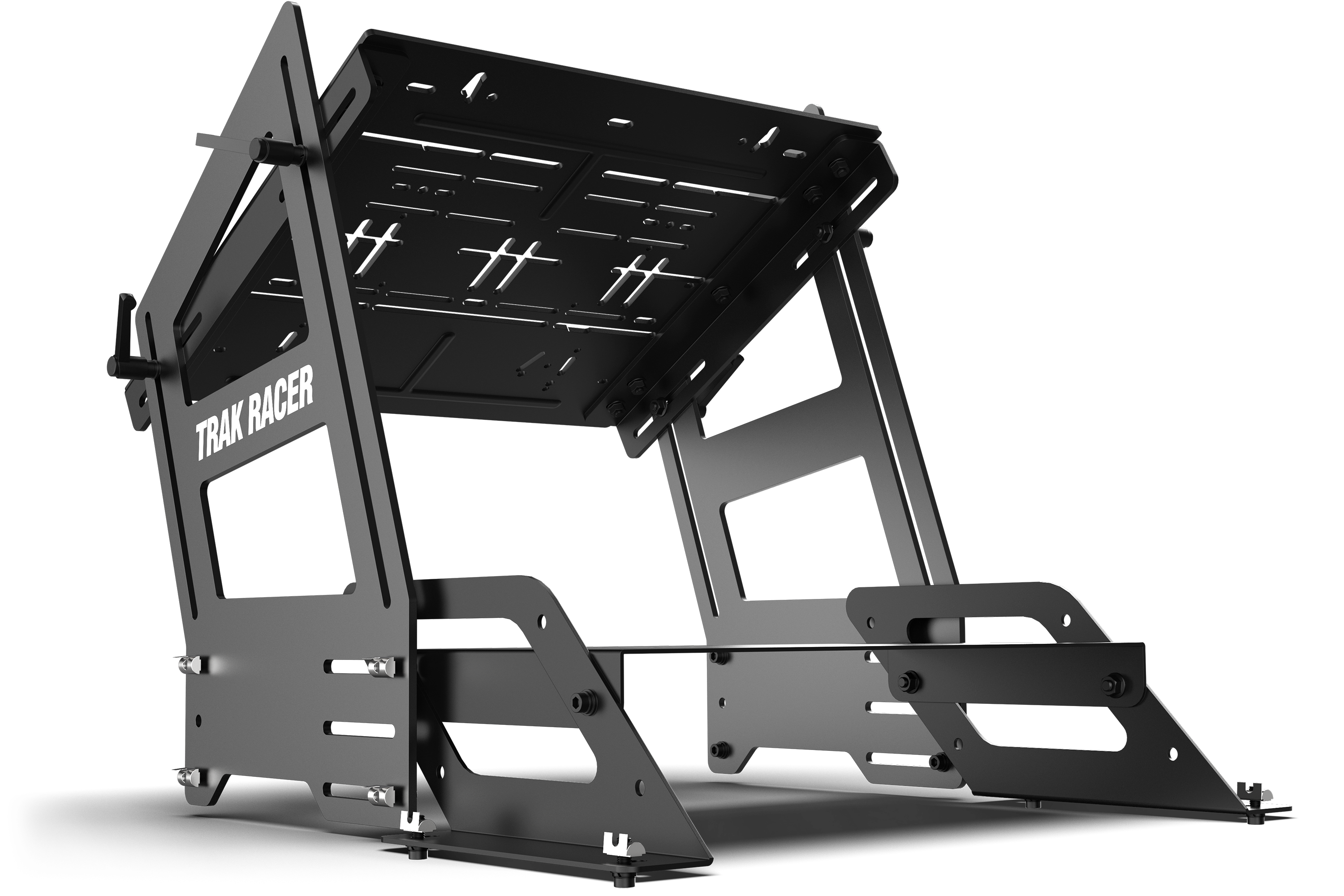 Universal Inverted / Formula /GT Hybrid Pedal Bracket System with Pedal Plate and Foot Plate
SKU: TR80-HYPL-AU
---
Adjustable Inverted / Formula /GT Position Pedal Mounting System for Trak Racer and Other Extruded Aluminium Sim Rigs
Trak Racer is the Official Simulator Supplier of Alpine F1 Team and Airbus Aircraft.
The Trak Racer Inverted Pedal Mount Set is another innovation by Trak Racer and includes a footrest and a huge amount of angle adjustment on the side brackets.

Compatibility: Suitable for any aluminum profile with an 8mm slot. Designed for Trak Racer cockpits with 500mm spacing for pedals (between inside of chassis profiles - Left and Right) as well as other extruded aluminum rigs 500mm (internally) wide.
Included: Pedal Plate and All Mounting Screws/T-Nuts to mount both below the profile (footrest) and above (plate brackets). The clever design mounts inside the chassis for maximum height and angle adjustments.
The Brackets are made out of thick carbon steel and can be angle adjusted and moved forwards and backward.

Adjustable Pedal Mount Features
Unique Bracket Design *Patent Pending
Fully adjustable bracket for both angle, height, and slide
Thick, no-flex Carbon Steel Construction
Pedal Deck Compatibility:
Trak Racer Loadcell Pro Pedals (Coming Q4 2023)
Fanatec CSL Elite Pedals, ClubSport V1/V2/V3 (including Inverted Pedals)
Thrustmaster T-LCM, T3PA, GT Ed, T3PGT, T3PA PRO add-on and T500, T150 pedals
Heusinkveld Ultimate/Ultimate+, Sprint and Pro
Logitech G25, G27, G29, G920, G923, G Pro pedals
Meca Cup1-2, Meca Cup1-3, Clutch and Base Plate, Meca Cup 1 Evo Hydraulic & LC
VRS DirectForce Pro Pedals
HPP PRX 3P, JBV 2/3 Pedal System
Simagic P2000-S100 Pedal Set
BJ Sim Racing Steel Series, 1000psi Hydraulic
DC Sim Racing DC3
Racewerk S1 Hydraulic Sim Racing Pedals
Sim Coaches P1-3
Simtrecs ProPedal GT
Velazquez Engineering PRO+ Hydraulic
Simforge Mark-1
3DRAP Ngasa
Protosimtech PT2
OBP Pro Race V2 Sim Pedal System
Simworx Pro Series
WAVE IMPETUS
Quaife Throttle Pedal and Brake
Cube Controls Hydraulic SP01
Venym Pedals
Moza CRP Pedal set
Moza SRP Pedal set with and without SRP plate
JCL Hydraulic Pedals
Thera Pedals
Asetek La Prima, Forte and Invicta pedals (plate may require new mounting holes)
SRP GT/GT-R/Formula/Formula-R (plate may require new mounting holes)
TRPED-PRO3
Simgrade pedal plate and VX PEDAL
Also, Flight/Heavy Equipment
Thrustmaster TPR: Pendular Rudder Pedals
Thrustmaster T.Flight Rudder Pedals
Logitech Flight Rudder Pedals
Logitech Heavy Equipment
Virpil Ace
Contact us if your product is not listed
5 Year Warranty
Official Racing Simulator of Alpine F1 Team and Official Flight Simulator of Airbus Aircraft
Since 2008, Trak Racer has been favored by professional drivers/pilots, game centers, massive gaming events, and event hire companies. By offering the highest quality gear in the industry, Trak Racer has collaborated with big-name brands such as, but not limited to, Alpine F1, Airbus, Xbox, Ubisoft, Sony, Castrol, Accord Hotels, and more.
If you're looking to partner with Trak Racer please get in touch.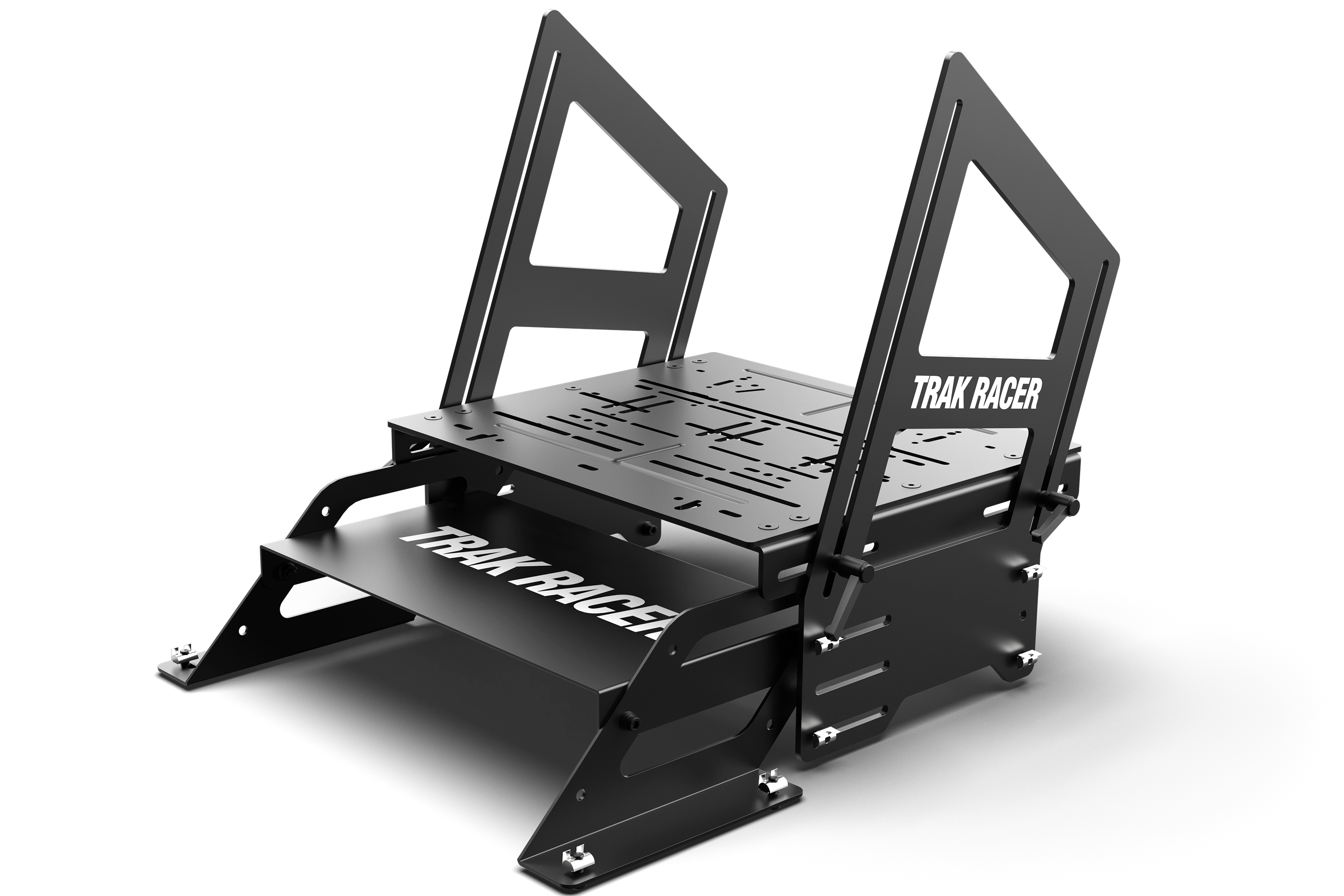 Customer-uploaded media carousel. Press left and right arrows to navigate. Press space or enter to open more details.
Slide 1 selected
100%
would recommend this product
Quality
Rated 5.0 on a scale of 1 to 5
Total 5 star reviews: 5
Total 4 star reviews: 0
Total 3 star reviews: 0
Total 2 star reviews: 0
Total 1 star reviews: 0
Great Stuff

The part is absolutely brilliant. great quality and assembly is very easy. I can only recommend it like all other parts from Trak Racer.

Great

Is a great bit of kit easy to.setup

MD

Excellent product!

High quality material! It's pretty solid and heavy, so it could be used as stand alone mount, having a hole sim rig is not a must for it. Thrustmaster T-LCM pedals fits perfect and could be aligned right exact as in real car angle for more realistic feeling. Definitely the best option for flipped pedals mount on the market in my opinion. The shipment was fast and right on schedule!

NO

Outstanding configuration options!

It actually feels so solid that I'm sure it will stand absolutely ANY gear on it. Kinda gives the impression of the ultimate set for all pedals.... maybe once they solve something that's bugging me for the surge platform setup. Because mounting the foot rest support below the horizontal 40160 renders tricky the placement with a set of sliders/rails sitting below for surge.

I'm fiddling on a workaround but if the great team at TR figures out something I'd be super happy to hear from them.

I'm having a blast with my 1st full TR build (TR160) and I am amazed by the quality of everything I have received for this hefty project. Thanks guys, keep it up and take care!

Very impressed with this product!

Very solid stand, literally no flex or movement on it at all even though I have a 100kg brake. It arrived very early and bolted to my rig very easily. I seriously recommend this, my pedals feel much more realistic and the quality is amazing!
Press left and right arrows to navigate.
Viewing Slides 1 to 3 of 5
Reviews Loaded
Reviews Added